ABOUT US
Sordina is a leading company specialized in the production and sales of high-technology medical equipment.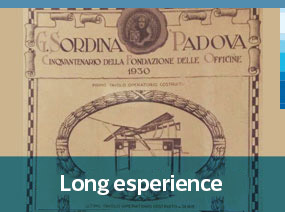 ---
PROFILE AND PHILOSOPHY
Sordina was founded in 1878 with the objective of research and development in the medical field. Already a leader in that period, in 1880 it produced the first operating table and also, some years later, the first sterilizer in history. Today Sordina is a leading company specialized in the production and sales of high-technology medical instruments, in particular sterilization equipment and leading-edge operating tables for hospitals and medical facilities. Due to recent industrial synergies, Sordina can provide qualified consultancy activities for the design of sterilization centres around the world. Similar activities are carried out in the field of training and education, technical services and quality control of the users' personnel in order to promote correct use of the equipment. Therefore Sordina has undertaken an active leadership for its suppliers and partners in terms of quality, cooperation and innovation. The reason for this not only lies in its decades of experience but also in the development of contribution, skills, specialization and resources of its partners. Design, choice of suppliers, final trial and delivery to clients: all these activities are organized and coordinated to ensure full customer satisfaction.
GUARANTEED AND CERTIFIED QUALITY
As far as SORDINA is concerned, quality means implementing and improving the management of production, marketing and operating processes. The aim is always to provide clients with complete, punctual and professional support. Total quality for SORDINA is an essential tool in every aspect of its business organization and it includes a common system of values, knowledge and procedures. Every Sordina product is designed and manufactured in observance with the Medical Devices Regulation 93/42/EEC and subsequent amendments, the Regulation PED 97/23/EC, and in accordance with the norms EN 285, EN 17665, EN 61010-1, EN 61010-2-040 and EN 61326. The company's quality system complies with ISO 9001 and ISO 13485. The accessories and solutions designed by our engineering service, as well the original equipment parts of Sordina, are guaranteed to correspond with our strict quality controls.