The purity of innovation
The range of sterilizers Sordina has always been at the top for technology and efficiency.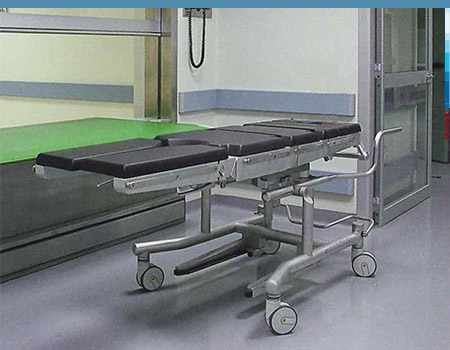 PATIENT TRANFER
ADVANTAGES
Improvement of handling processes
Optimization of use times
Greater patient

tranquillity

Movements managed by a push-button panel

Touch screen control

Remarkable opening of the window compartment
Easy alignment of the stretcher / transfer

surface
Sordina has designed and produced a new concept of transfer boards to make patient access to the operating theatre much more comfortable and less traumatic. The model X/25 originates from our long experience in the implementation of systems for operating theatres and represents the natural evolution of previous versions.
The transfer board moves the patient from one floor or a bed to another, both when entering and exiting the operating theatre. This procedure has two main objectives: to make all of these phases comfortable for the patient and to allow staff to avoid moving the patient. The benefits for operators are obvious, but Sordina focuses especially on the feeling of safety and professionalism transmitted to the patient by the use of the product. Movements are managed by the button panel.